Ok so the first picture you see is my winning Sierra/ Vinvendi Universal Games Collection. The objective of the contest was to show off your collection in a creative/artistic way. Not based on size of the collection. I hand drew the Sierra logo and all you see on there. The collection is small but I'm a big fan of Sierra games. Other games you see in there are VU games since the contest was for Sierra/VU games.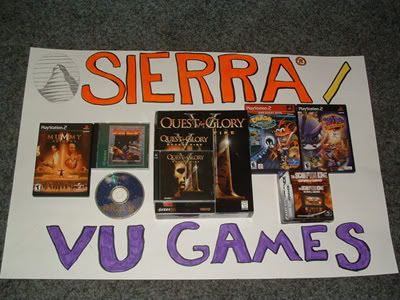 This contest took place last August and for winning the contest I recieved every game that Sierra released in 2006 on the platform of my choice. I chose the PC and that means I won the compilations!
Below you see my current Sierra games collection (minus VU games) Most of them are the ones I won from the contest lol. Notice that FEAR is signed by the developers at Monolith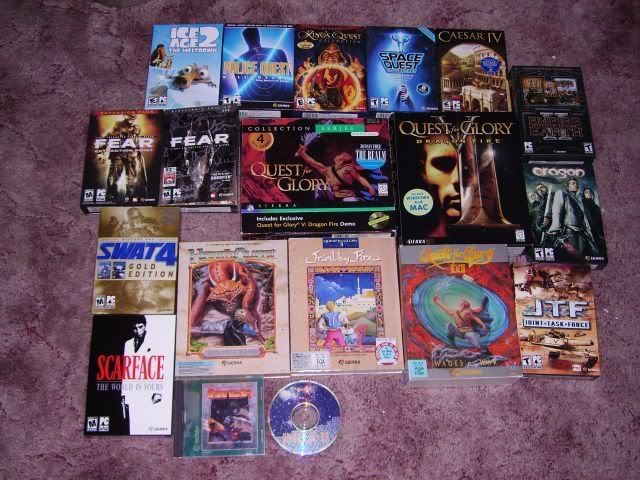 The next image is my QFG wall! The shelf contains the QFG Collection, Hero's Quest and QFG 2,3, and 5. Below the shelf is the QFG2 map that came in the box!
I must again thank QuestCollector for giving me the collection, Hero's Quest and QFG 1,2, and 3.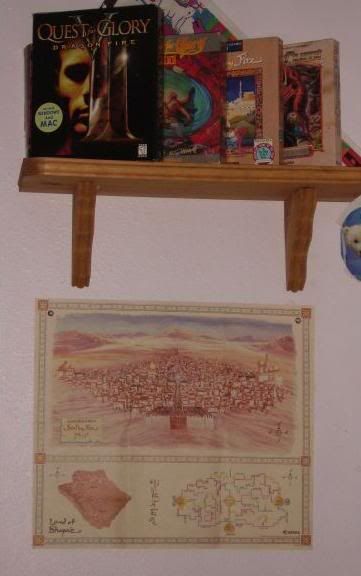 Also some games I grew up with I no longer have
Such as Mixed Up Mother Goose.
Other than that I just have to say that I've been playing QFG since I was in like 5th grade and It's been my favorite game series ever since. That's also around the time I first played KQ7. But I've grown up playing games like Inca and Inca II and watching my dad play KQ5. Sierra games have always been a favorite!